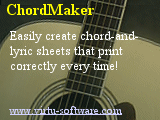 Member Profile
Screen Name: David N

Location: Indianapolis, IN USA
Birth Date: Jan 21, 1953
Send a message to David N

I'm a software developer and a musician.

Have used this software since 2009. It has been a huge help to me in organizing, preserving and presenting old hymns, modern worship songs, secular tunes and personal compositions.

I have over 700 songs in my libraries.
Do you have ChordMaker? If you don't, you should!
The songs in this forum are formatted for this easy to use software product.
site design by Virtu Software. Privacy