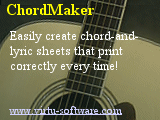 Member Profile
Screen Name: Glenda Mills

Location: Maine, USA
Birth Date: Aug 5, 1968
Send a message to Glenda Mills

I'm a software developer, a musician, and a ventriloqiust. A real 'Jack of all Trades' Someday I'll master something!

Oh yes...and I built this website, so if you have any problems with it, just send me a private message, using the private message link above, and I'll do my best to help you out!

Also, if you have any reason to believe someone is abusing this forum, by posting either inappropriate or copyrighted material, send me a message immediately, and I will deal with the situation.
Do you have ChordMaker? If you don't, you should!
The songs in this forum are formatted for this easy to use software product.
site design by Virtu Software. Privacy